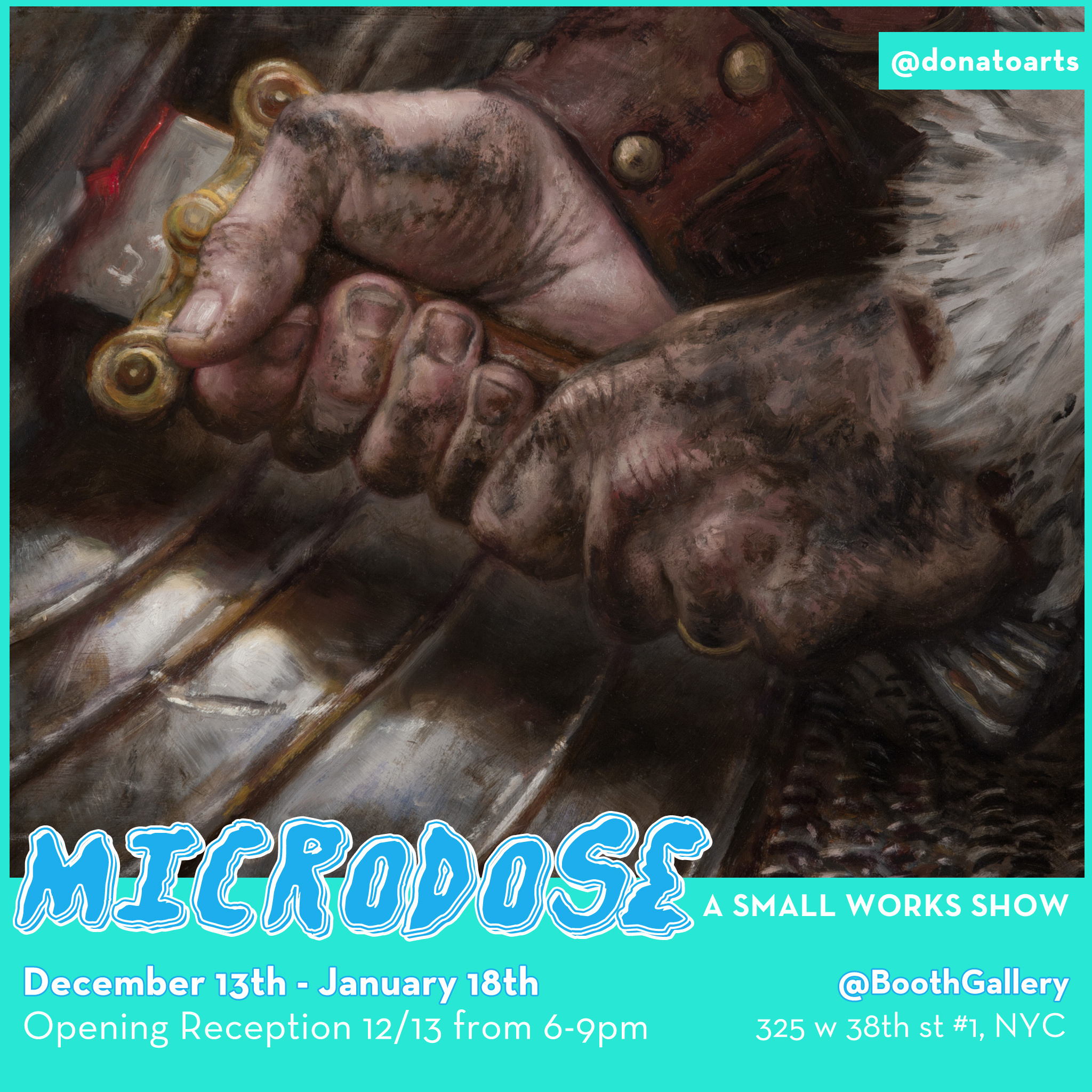 Microdose: a small works salon

Big artists in a manageable dosage. Drawings, paintings, and sculptures all under 14" in size.
December 13, 2019 - January 18, 2020
Opening reception Friday December 13th from 6-9PM

This event is open to the public and free to attend.
(unfortunately Donato will not be in attendance due to his CommandFest appearance)

Artists Include:
Ben Ashton (artwork shown above), Ronit Baranga, Dave Benz, Zofia Bogusz, Rachael Bridge, Zachary Brown, Nannette Cherry, Nomi Chi, Colin Chillag, Dan Cimmermann, Alex Eckman, Lawn, Donato Giancola, Gosia, Paige Greeley, Baptiste Hersoc, Yun Sung Jang, Kikyz1313, Michelle Konczyk, Boy Kong, Chris Leib, Musidora Levamp, Chris Liberti , Joseph Loughborough, Caitlin McCormack, Emil Melmoth, Alex Merritt, CT Nelson, Daniel Ochoa, Michelle Perez,, Reisha Perlmutter, Horacio Quiroz, Rebecca Reeves, Julio Reyes, Madeleine Rhondeau, Scott, Schiedly, Ian Stone, Mark Tennant, Sid Watters, and John Weldon Wood.
Booth Gallery
325 W 38th Street
New York, NY 10018
(212) 560-0666
hours:

Tuesday - Saturday 11am - 6pm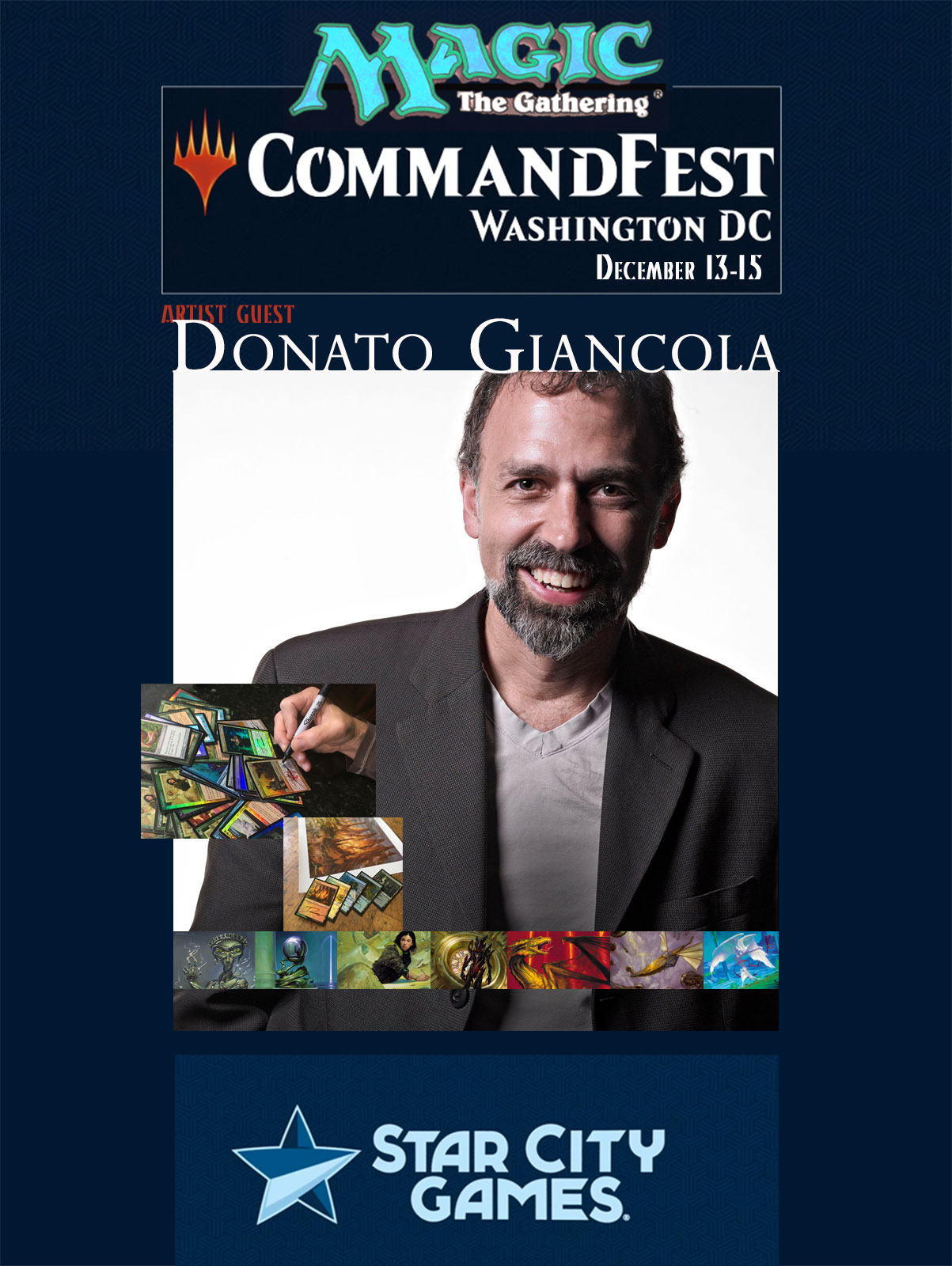 Magic:The Gathering CommandFest Washington DC
December 13-15, 2019
Dulles Expo Center
4320 Chantilly Shopping Center
Chantilly, Virginia 20151
Donato will be returning this December to another Star City Games Magic gathering and will be present on the floor of the event hall for the entire three days. In addition to signing he will have a host of Magic proofs, prints, original art, and a selection of his recent foray into Proof Micro Paintings for sale. The recently published 200 page, over-sized monograph on Donato's Middle-earth works from Dark Horse Comics will also be found at his table.

A full listing of the cards and art Donato has illustrated for Magic:The Gathering may be found at:
https://www.donatoarts.com/magic
CommandFest
Hall Hours
Friday, Dec 13 10am - 9pm
Saturday, Dec 14 9am - 8pm
Sunday, Dec 15 9am - 7pm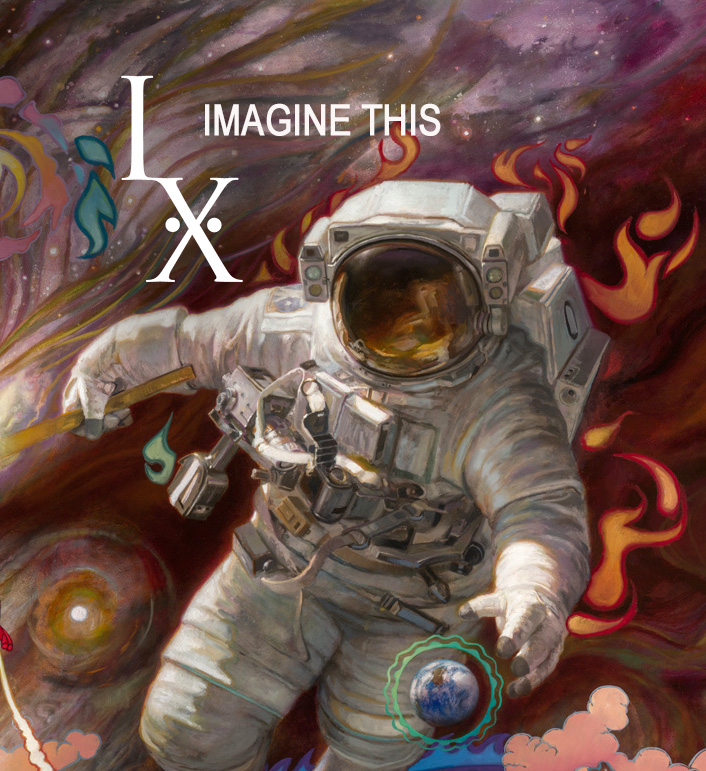 IX Arts - 2019

October 23-27, 2019

GoggleWorks Center for the Arts
201 Washington Street
Reading, PA
610-374-4600

IX 12 (IlluxCon) will be opening its twelveth year at the GoggleWorks Center for the Arts in Reading, PA. One of the most prestigious exhibitions of contemporary fantastic art in the world, IX Arts is a comprehensive exhibition of fantastic art gathering together some of the brightest stars in traditional media for four and a half days of non-stop presentations, lectures, demonstrations, and inspiration.

Incredible names, new and old, within the science fiction and fantasy genre will be exhibiting the very best and most recent works from their studios, guaranteeing that this will again be a show to inspire and remember. Scott Gustafson, Ruth Sanderson, David Wenzel, Tom Kidd, Tran Nguyen, Tom Kuebler, Boris Vallejo, Julie Bell, Omar Rayyan, Dave Seeley, Vanessa Lemen, Steve Hickman, Mark Harrison, Colin and Kristine Poole - the list goes on and on and on.

Donato will be featuring many new works, including numerous interior drawings and the cover wrap around oil painting from the recent Limited Edition novel illustrations for Jacqueline Carey's Elegy for Darkness, the revised astronaut epic - LifeSeeker, a new Empathetic Robot painting, and handfuls of new fantasy and science fiction oil paintings, drawings and prints - From Middle-earth to Dungeons&Dragons - the full range of Donato's interests will be on display.

For more information about IX Arts, visit http://illuxcon.com/.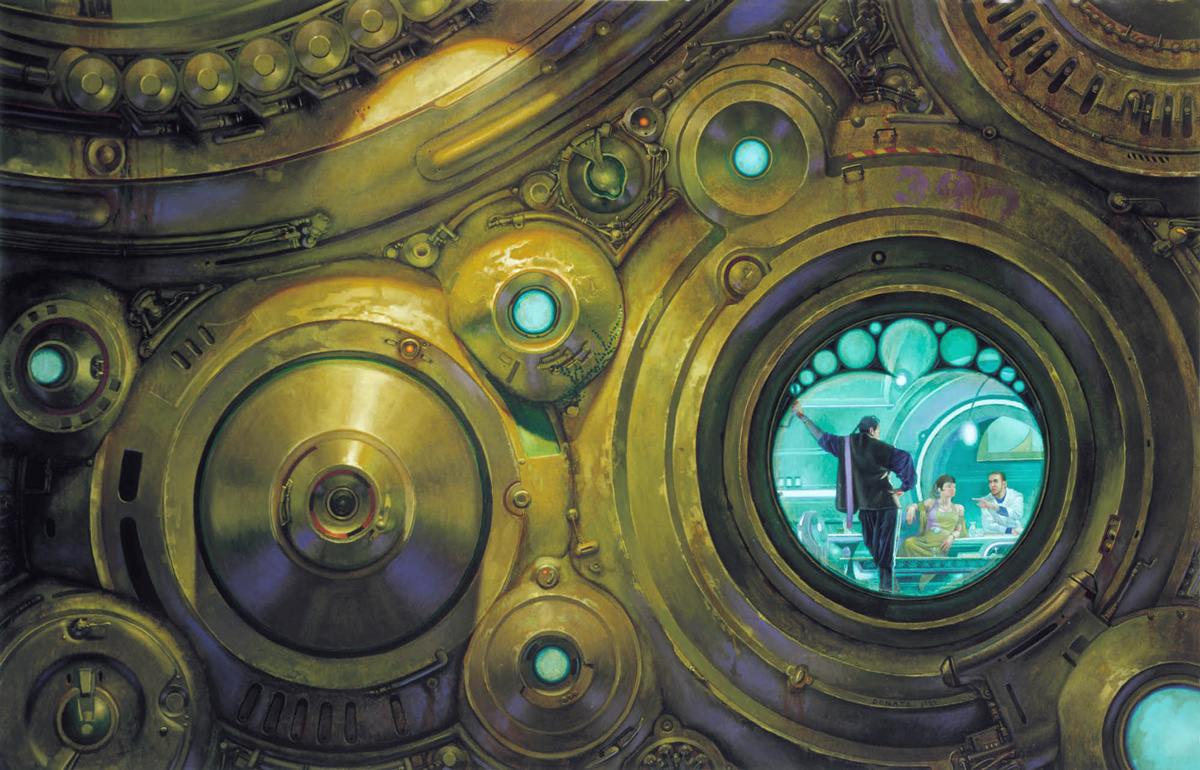 September 6-27, 2019
Opening Thursday September 5th, 6-9 pm

Open to the public

A new retrospective exhibition featuring 40 works spanning my entire artistic career, fan and pro alike.
Selections include studies, drawings, sketches, and major career milestone oil paintings will be on exhibition and presented by Laguna College of Art and Design's (LCAD) BFA program in Illustration at the LCAD Gallery.

Works exhibited range from early childhood drawings to my first and latest interpretations of J.R.R. Tolkien's Middle-earth, from beginnings as a book cover artist in New York City to commissions for Magic: The Gathering, and from calendar art for George R.R. Martin's A Song of Ice and Fire (Game of Thrones) to the recent series, Empathetic Robots.
Admission is always free and open to the public

11AM – 4PM, Wednesday through Sunday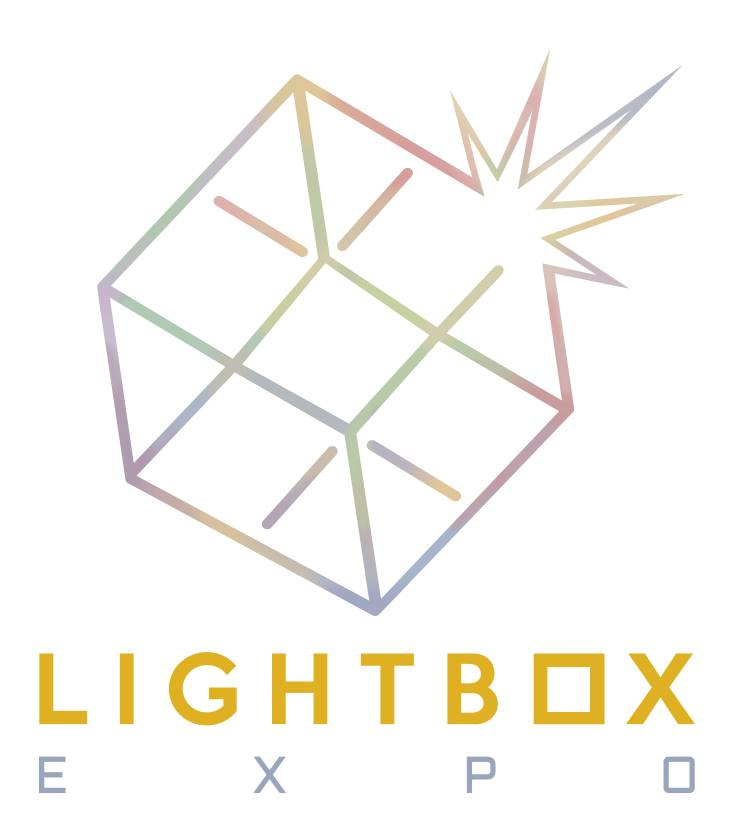 This September will see the launch of a new convention centered around the art and creators within the fields of Concept Art, Illustration, Animation, and Gaming. Begun by Bobby Chiu, a character designer and founder of Schoolism, and Jim Demonakos, founder of Emerald City Comic Con, for although there are quite a few conventions which draw in the talent from the afore mentioned fields (from San Diego Comic-Con to Spectrum Live to E3), there had yet to be a convention held in the backyard of Los Angeles. The proximity to Hollywood and Southern California's dense animation and gaming business is guaranteeing the floor at the Pasadena Convention Center will be packed and rocking with an incredible wealth of creative individuals over these three days.

This is one of the main reasons why I love to attend gatherings such as Lightbox Expo, for the chance for something unexpected to happen with my art and career. I love the thrill of meeting new professionals, fans, and future accomplices in an ever evolving career in the arts – new lights beckon through cracks and keyholes.
From the LightBox website:
Renowned character designer and illustrator Bobby Chiu, the team at Schoolism, and Emerald City Comic Con founder Jim Demonakos have teamed up to launch LightBox Expo, a three day celebration of the visual arts in Pasadena, California.

LightBox Expo (LBX) was conceived as a way to bring together the best artists in animation, illustration, live action and gaming industries under one roof. Why? To hang out with fellow creators, share our art with the public, meet other artists, further our skills and educate those coming up in our respective industries.



PASADENA CONVENTION CENTER
300 E Green St
Pasadena, CA 91101
USA
September 6-8, 2019
Donato Arts
Booth 916
EXPO HOURS
Friday – 12pm-6pm
Saturday – 10am-6pm
Sunday – 10am-5pm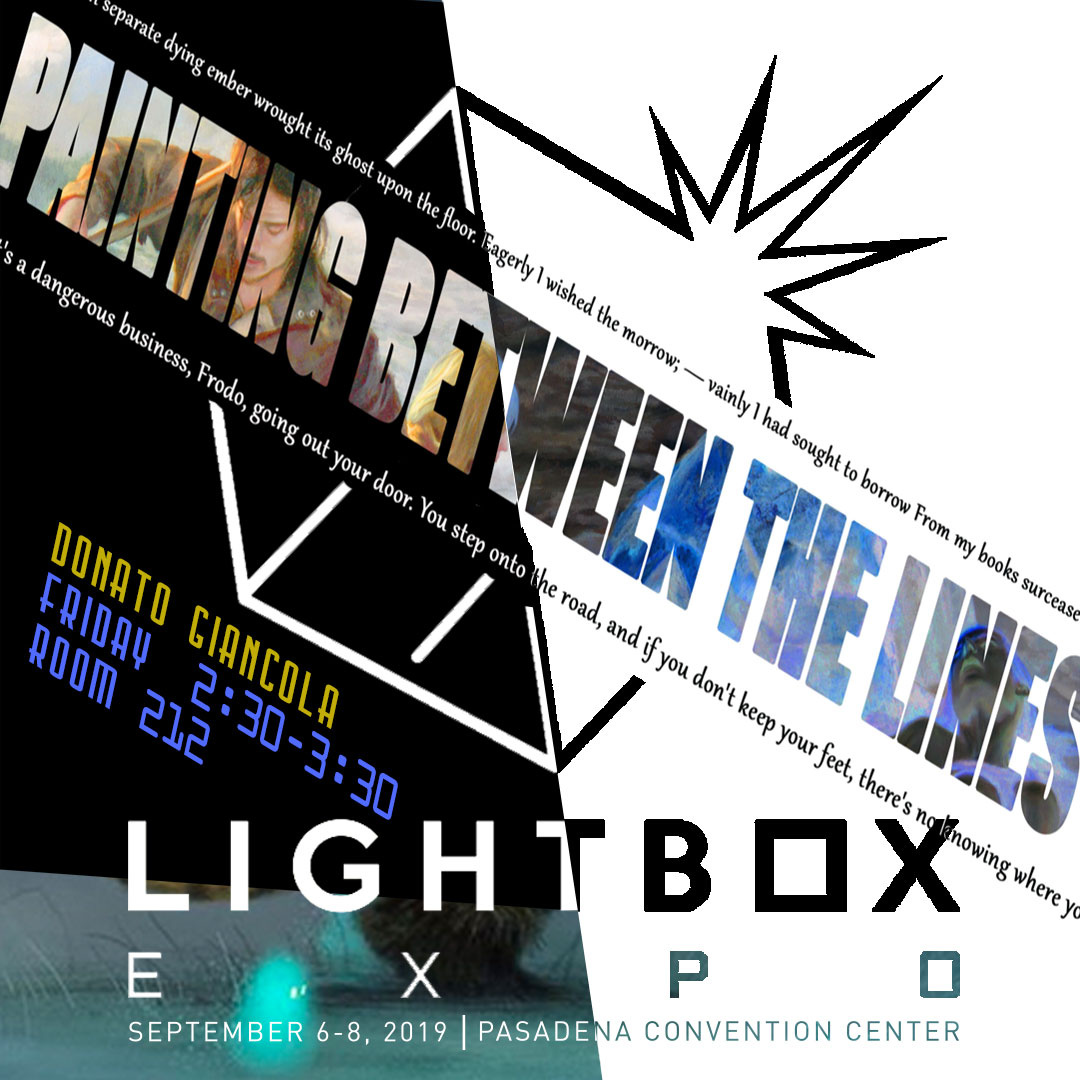 I will be hosting a lecture:
Painting Between the Lines
Friday, September 6th, 2:30 pm Room 212
on the theme of creativity
Check out the amazing programming planned for LightBox Expo: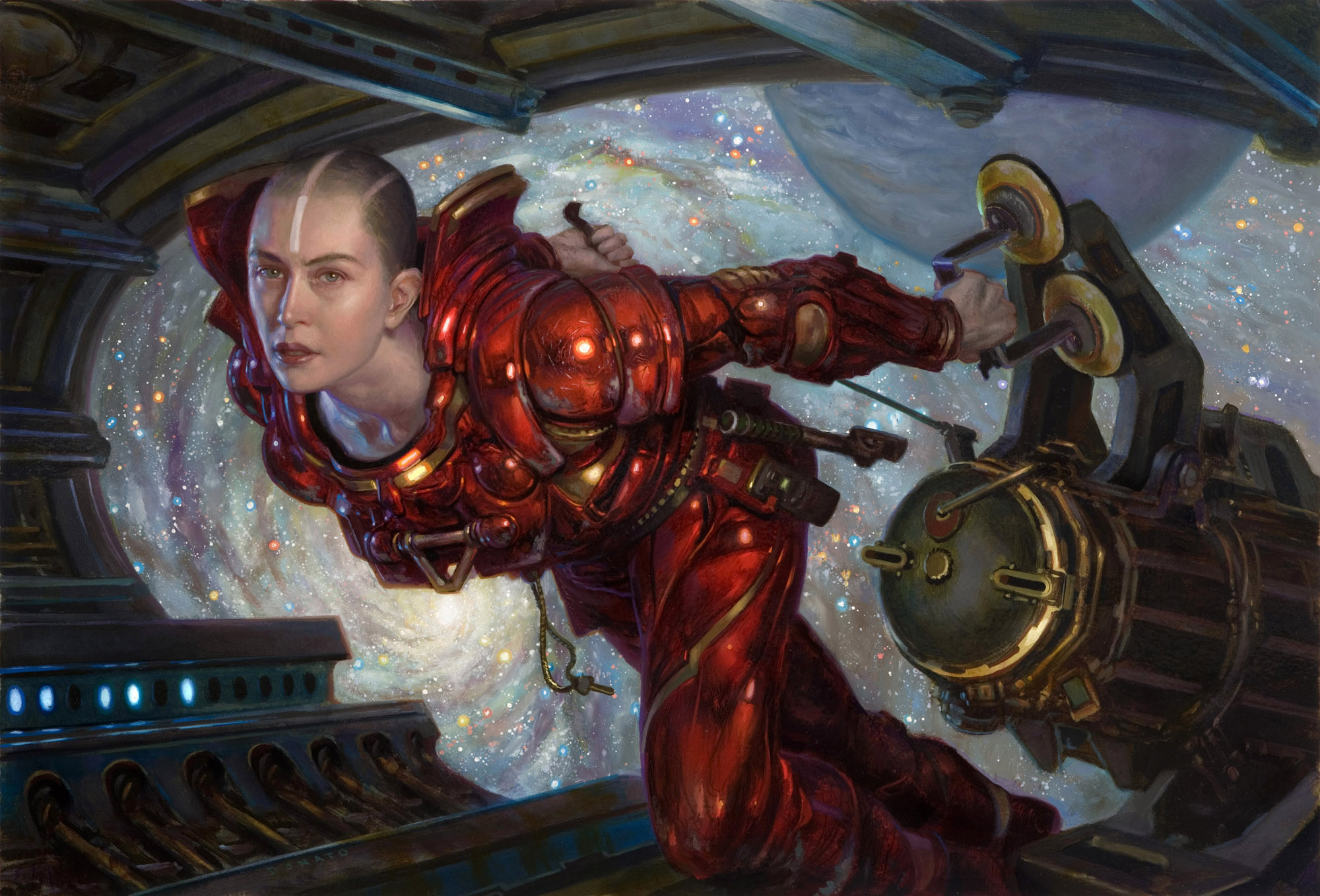 SmArt School 2019 Fall Online Mentorship with Donato
14 Sessions of Comprehensive Critiques and Lectures on Art, Aesthetics and Business
September 11, 2019 - January 8, 2020
Wednesdays 4:30pm-7:30pm EST

For information on enrollment:
The SmArt School
smarterartschool@gmail.com

With twenty-three Chesley Awards, nine medals from Spectrum, three Hugo Awards, and over twenty-four years of teaching experience, Donato Giancola offers nearly unparalleled insight to professional practices and techniques within the freelance artist's marketplace. This mentorship runs online thirteen sessions meeting once a week for three hours in a Fall-Spring semester schedule. Extensive critiques, workovers, lectures, and presentations on painting and narrative image creation will be covered in intensive work sessions as well as discussions on business experiences - from contracts to self promotion to client negotiations.

Artists wishing to develop their pictorial image making skills do so under Donato's direct tutelage. Group and individual critiques are emphasized and cooperative development is fostered as a means toward resolving visual solutions. Traditional and Digital media are equally welcome.

This is a 13 class semester with a built in 14th class for unexpected student absences.
One class session will be dedicated to the exceptional professional guest, Irene Gallo, publisher of Tor.com near the end of the term in December.

One of the great strengths of the SmArt School program is that mentorees can live anywhere in the world and take part in classes provided they have access to moderate to high speed internet connections. Sessions are run using group meeting software compatable with Macs, PCs, iPads, and even iPhones.

Illuminating examples from art history, samples from Donatos portfolio, and works of contemporary artists will be utilized to provide clarity in the discussions. Lectures and critiques transpire via desktop sharing and digital draw overs of mentorees work in Photoshop. Class size will be limited to no more than ten students in order to offer the greatest interaction on individual critiques as well as inspire rich dialog based upon frequent, formal lectures on topics relevant to the production of high-calibre, polished professional art and illustration.

Topics of discussion slated to be covered include:

Painting Between the Lines - Developing Complex Narrative and Emotional Content
Abstract Thumbnailing and Preliminary Drawings
Compositional Aesthetics - Balance, Pattern, and the Modern Eye
Marketing and Self Promotion
Photographic References - Manipulation and Sampling
Creativity Consciousness
Mastering Metal, Textures and Complex Visual Effects
Controlling Color - Theory and Implementation
Composing with Multiple Figures
Challenges - Advancing your Artistic Career
Business Negotiations - Communication, Correspondence, and Collaboration

Visit smarterartschool.com for information about this class with Donato and classes with seven other professional artists.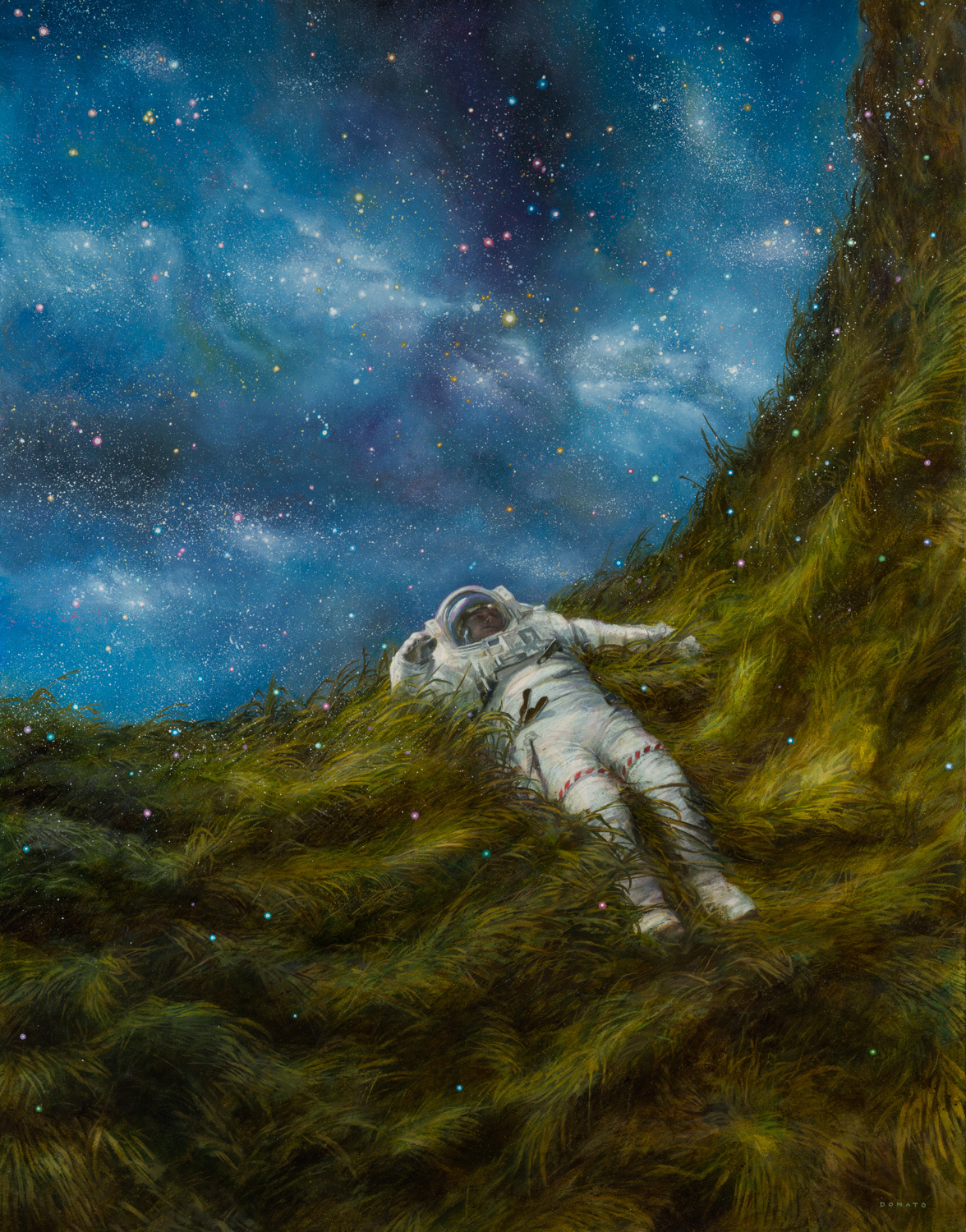 Exhibition Featuring works from Michael Whelan, Donato Giancola, Michael Alfano and Robert Remsen Vickrey
August 3 -16, 2019
Opening reception August 3rd from 5-7PM
hours: Tuesday - Saturday 10am - 5:30pm

In a first time showing at the gallery, Donato will be sharing new works related to his astronomical series and fascination with the merging of nature and humanity. Donato will be in attendance for the opening, and willing to sign items related to his published book and game artwork, from Middle-earth to Magic:The Gathering. Come join us for an exceptional exhibit!
Free and open to the public.
Below are a few of the images to be on display.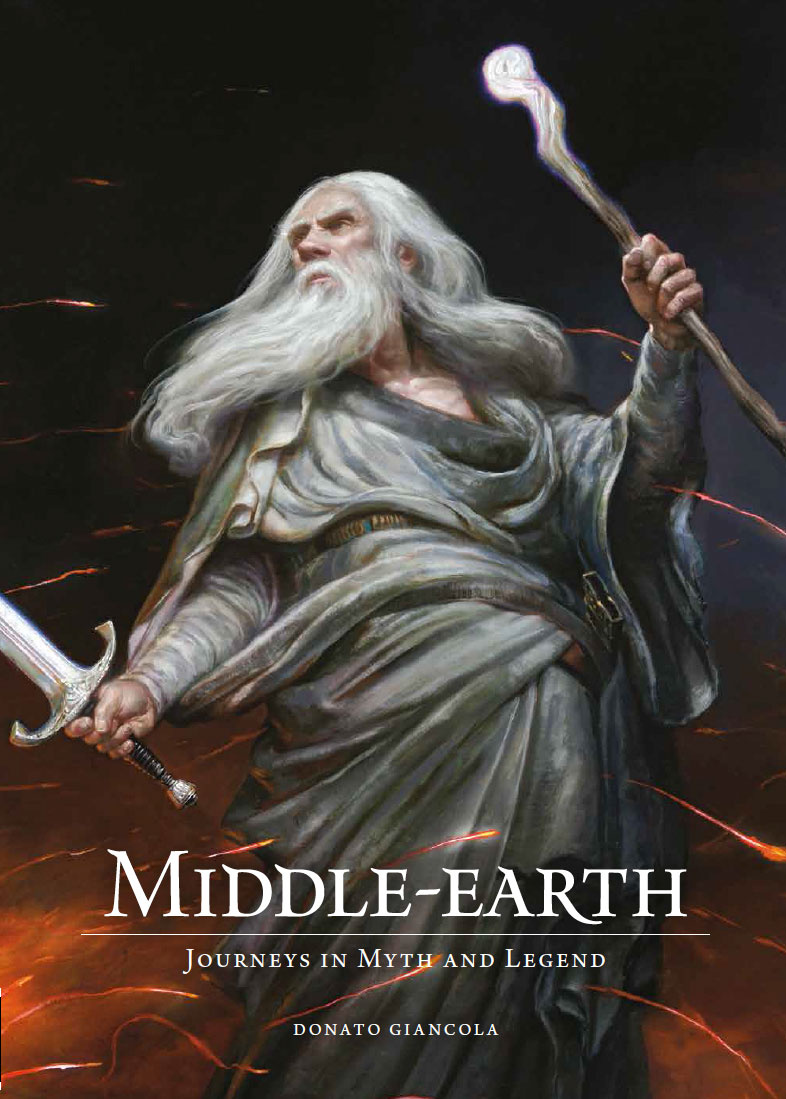 Middle-earth: Journeys in Myth and Legend
Published by Dark Horse, April 2019

After three years of working with editor Scott Allie, I am very happy to announce that the revised edition of my book on Middle-earth art will be avialable coming this April from Dark Horse Publishing. It has been a real pleasure putting this together and the talents of Chris Horn and Patrick Satterfield have insured its absolutely gorgeous production quality.

The new edition will be massive at 14" tall by 10 wide, offering great panoramic views of double page spreads for all the large scale paintings depicting landscapes inspired by J.R.R. Tolkien, as well as viewing many drawings at 100% scale. The tome is now 200 pages, adding over 100 new works of art to this collection beyond the first edition!

As a peek into working methods in the studio, included is a five page process section on the epic canvas, Beren and Luthien in the Court of Thingol and Melian

200 pages, large format
14" x 10" full color hard cover
April 2019 publication date
To pre-order the book visit:
For those who wish for a little more special edition, Shawn Speakman of the SignedPage.com

and I are offering signed and embossed books. The emboss is that of the sigil of the Kings of Gondor!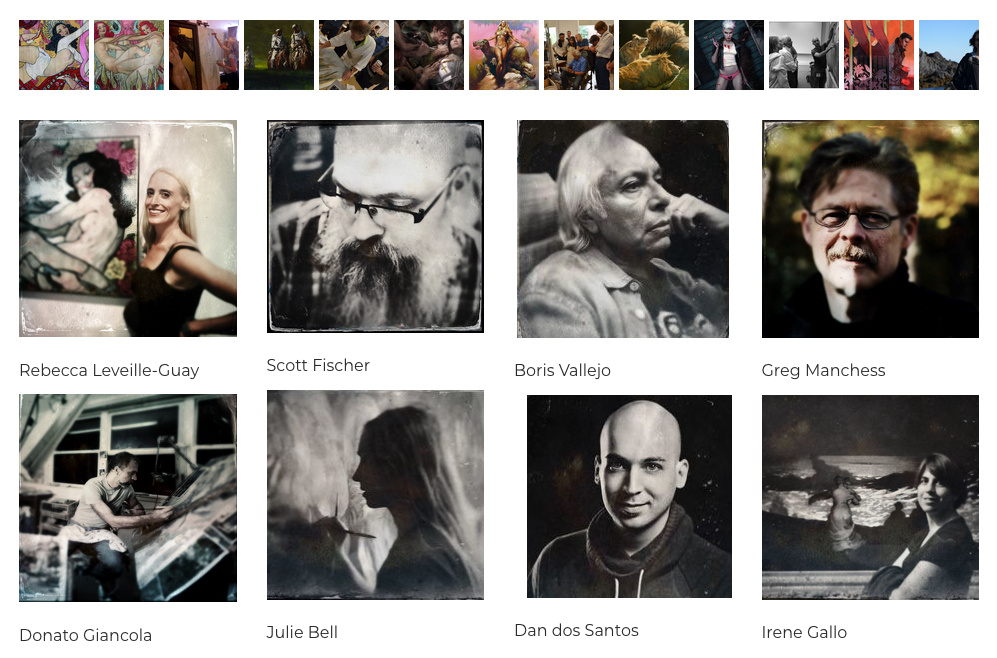 Amherst College
Amherst, Massachusetts

This June will find Donato once again at the twelfth annual gathering of the Illustration Master Class. Begun by Rebecca Guay to bring together some of the most talented teachers and students in science fiction and fantasy illustration, this week long, mind numbing, action packed and sleepless night filled experience has no rival in other workshops. In addition to the usual faculty of Boris Vallejo, Julie Bell, Irene Gallo, Greg Manchess, Rebecca Guay, Dan Dos Santos, Scott Fischer, and myself, The IMC welcomes back the incredibly talented and respected Iain McCaig, Mike Mignola, Lauren Panepinto, Marc Scheff, and new comer Karla Ortiz as its guest additions for the week. A handful of visiting artists and professionals, will also fill out the engagements throughout the week.


Visit artimc.org for information about this years housing and registration. Spaces still available!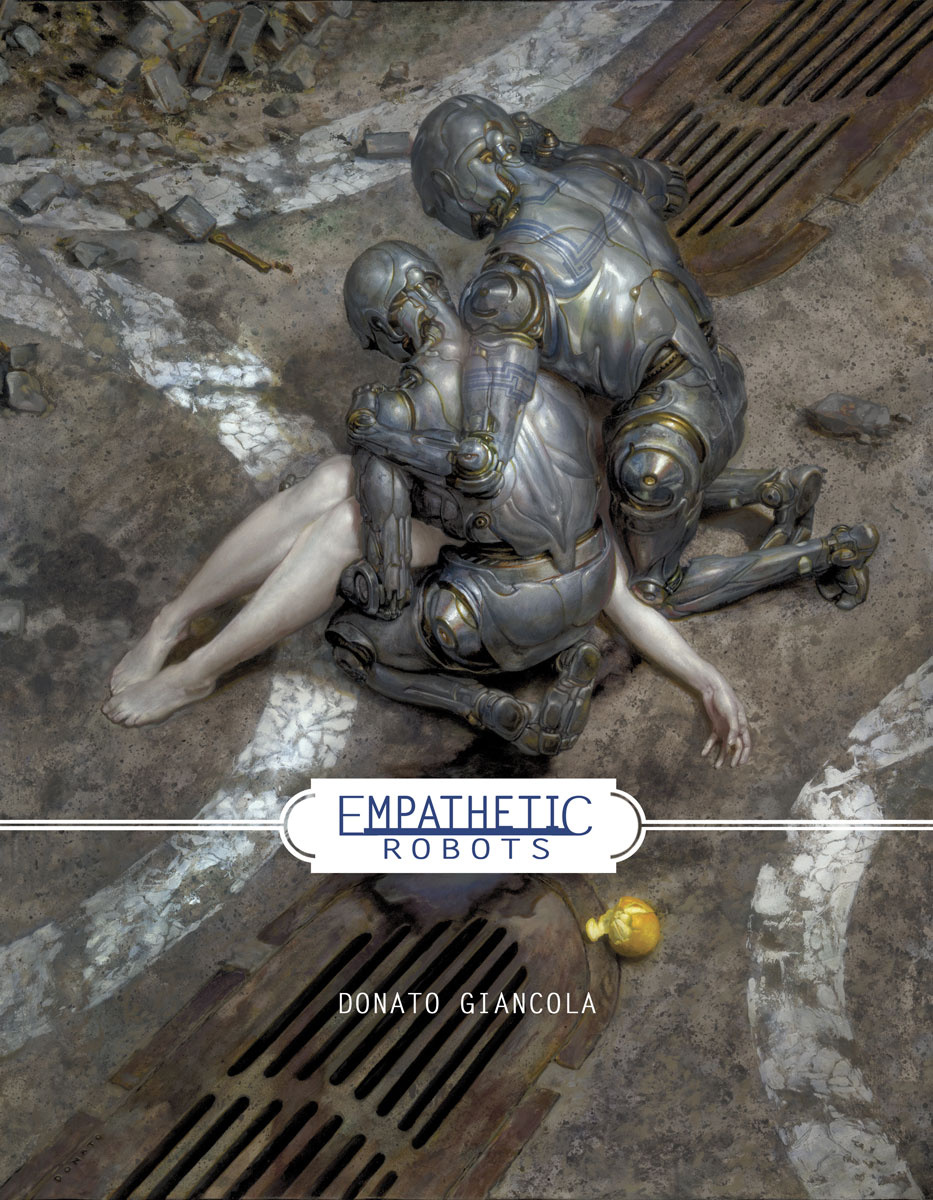 Spectrum Live! & Planet Comicon Kansas City
March 29-31, 2019

Kansas City Convention Center
Bartle Hall
301 W. 13th St
Kansas City, MO

Planet Comicon Kansas City this year will be co-hosting the gathering and exhibit Spectrum Live as a sub-convention within their event. One of the largest gatherings of science fiction and fantasy artists, Spectrum Live offers a chance to connect with other professionals within the industry while reaching out to interact with the thousands of fans attending the Comicon.

Respected talent within the science fiction and fantasy genre will be presenting and lecturing at Planet Comicon - Ian McCaig, Miranda Meeks, Chris Claremont, Amanda Conner, J.A.W. Cooper, Bill Carmen, Tran Nguyen - as well as scores of other exhibiting artists.

Donato will be featuring many new works, including the newly expected revised edition of art on J.R.R. Tolkien's world - Middle-earth: Journeys in Myth and Legend published by Dark Horse and due in the states the same week as the convention! The Donato Arts booth will also including nearly 30 interior drawings from the recent Limited Edition novel illustrations for Naomi Novik's Uprooted, interior illustrations for Warrior by Terry Brooks, a new Empathetic Robot painting, and new fantasy and science fiction oil paintings, drawings and prints - From Middle-earth to Game of Thrones - the full range of Donato's interests will be on display.

For more information about Planet Comicon and SpectrumLive, visit: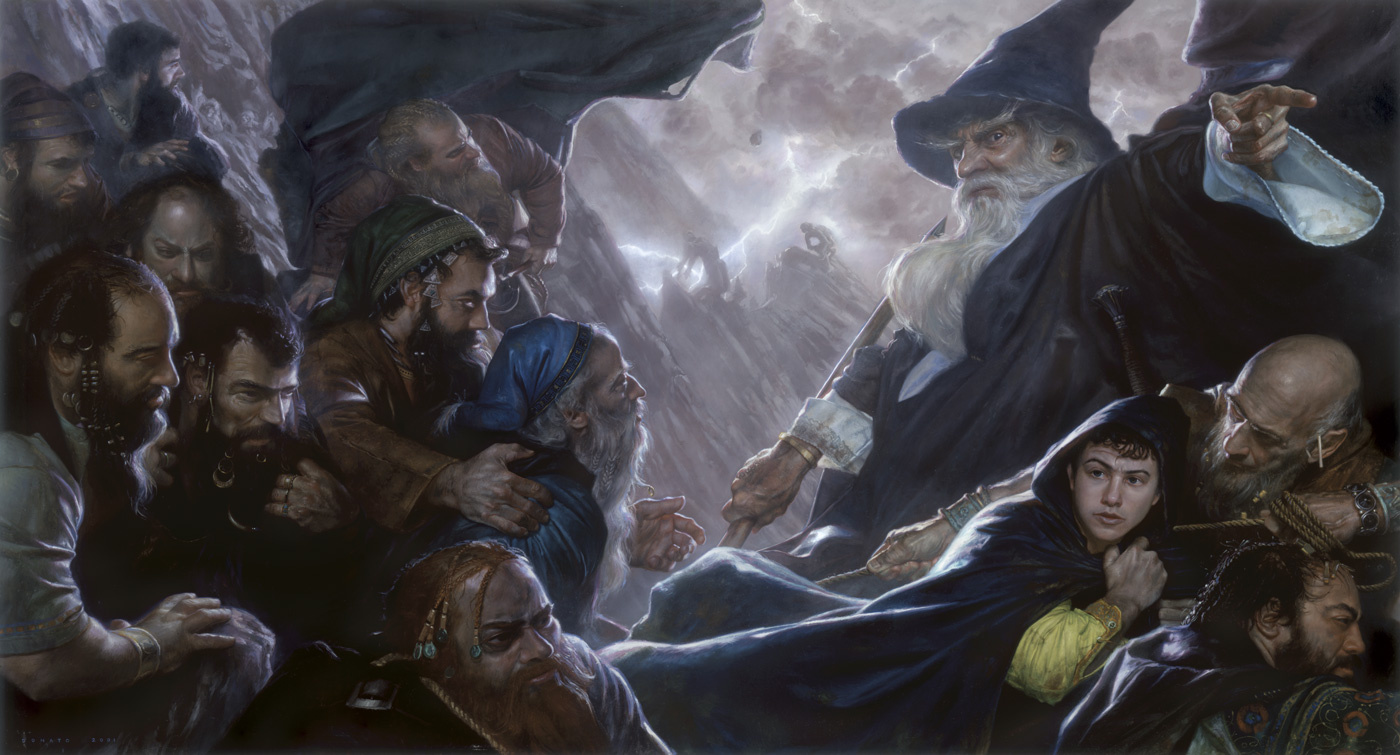 MASTERS OF THE FANTASTIC
March 20 - June 8, 2019

Opening Friday, March 29th
Museum of American Illustration
Society of Illustrators
128 E. 63rd Street
New York, NY 10025

I am honored to be a part of this exhibition curated by Vincent DiFate. With over a dozen contemporary artists joining selections from science fiction and fantasy history, the show will represent a wonderful sampling of work from some of the amazing talents in the genre.

A slate of the contemporary artists represented : Michael Whelan, Boris Vallejo, Kinuko Craft, Vincent Difate, Diane Dillion, Peter de Sève, Julie Bell, John Jude Palencar, Julie Bell, Greg Manchess, and Rowena Morrill.

I have will have five works in the exhibition, including my first cover painting for Penguin Books - Construct of Time - and my first Magic:The Gathering card art - Amber Prison. Also included is the epic cover to David Wenzel's illustrated graphic novel of The Hobbit (above) by J.R.R. Tolkien , the visual ground breaking cover to Donald Kingsbury's Psychohistorical Crisis, and my latest Empathetic Robot painting - Despair - featuring my daughter Cecilia!